Vision Quest 2 t/m 10 september 2023 – 8 dagen in de vrije natuur, Terschelling (Bos West)
Deze tijd vraagt van ons dat we kiezen welke acties ons en de toekomst dienen. Wat niet (meer) bij ons past mogen we achter ons laten. Als je je geroepen voelt een Vision Quest te doen, je terug te trekken in de natuur om nieuwe inzichten te verkrijgen, dan is dit jouw tijd om te bepalen welke weg bij jou past. Het is een oeroud ritueel om de samenhang van het leven te leren begrijpen. Het gaat om het zoeken, loslaten, herinneren, vinden en integreren. Door dit ritueel krijg je helderheid over jouw diepste kernwaarden en welke ballast je niet meer hoeft te dragen. Je gaat ontdekken welk pad past bij jouw individuele ziel. Als je je aangetrokken voelt tot deze reis naar binnen, dan is het waarschijnlijk tijd om iets te markeren in je leven. Bewust of onbewust trek je een streep onder een bepaalde fase in je leven. Om 'lichter' en met meer vreugde verder te gaan. Door dicht bij de aarde te zijn deze dag en nacht en je diepste intenties te delen, maken we verbinding met onze menselijke natuur. Wanneer we op deze manier vasten en mediteren, kunnen we toegang krijgen tot de grootse wijsheid van de natuur.
Data: 2 tot en met 10 september 2023, Terschelling
Investering: € 1430,00  (incl alle begeleiding voor en na de quest, het eten, excl btw en de reis vv)

NB. Mocht je de 'vonk' voelen, maar niet dit bedrag kunnen betalen, laat het ons weten, dan zoeken we naar een oplossing.
VISION QUEST 2 tm 10 september 2023
locatie: Terschelling (Bos West) Holland
begeleiding: Annette Beerens en assistent
Als dit transformatie ritueel je aanspreekt, kun je hieronder verder lezen. Deze tekst is in het Engels, omdat het geënt is op de School of Lost Borders , waar ik opgeleid ben tot Vision Quest leider.
"Nature – embraces and beats us, blows right through us until the dawn of our being stands true, naked and free… free to just be!"
This ceremony involves several days of preparation, 3 nights and 4 days of fasting alone in a wilderness place, and a few days of incorporation.
The Vision Quest is an ancient ceremony to mark and move on from one life transition to another. The ancients knew that by crossing these thresholds in wild places, we face our fears, see our life pass through and gather our medicine, in order to move into the next phase of life.
Our indigenous tribal ancestors also knew that their roots were connected in the Earth. They knew that the sun and the stars, the wind, stones, trees – every creature, season and cycle of nature is integrally connected to our very essence of being. The primal seeds are held in the cells of our bodies, in the birth of our images and the fire of our emotions.
We all have a story! The story of our life is held in our bones and blood – our childhood and history, the patterns we create, and relationships we make from birth to death, the first and final initiations.
Our soul and spirit are not somewhere else, but right here and now, waiting to grow and expand – each breath an initiation, an expansion into life and death.
The next stage of our life!
In our modern times many of these old traditions and rites have been forgotten or lost. We live in challenging times, sometimes turbulent, sometimes with periods of confusion, alienation and without focus, struggling to identify what is important and what has true meaning. Often feeling separated and alone.
For those who are aspiring to know themselves – allowing you to rediscovering the natural world as a teacher full of meaning and life spirit; once again recognizing that the inner and outer cycles of self, nature and seasons, are but and the same.
We are not separate. The world is an eternal mirror, our true nature is to know and own your inner truths and values beyond what keeps you confined and small. To ask the questions "Who am I?" and "What do I have to offer the world?
The modern day vision quest is a border crossing practice. When one steps across the threshold and into the unknown wilderness, boundaries begin to dissolve and our vision begins to expand. The threshold place is a dreamscape, where everything is pregnant with meaning, and nature, once again, speaks to us in the voices of rock, tree, and wind. Following the ancient pathway of this rite of passage, we step into our true nature and remember our home among the wild. We become who we were born to be.
This ceremony involves several days of preparation, 3-4 days and nights of fasting alone in a wilderness place, and a few days of incorporation.
Preparation
You will be readied to physically, psychologically, mentally, and spiritually benefit from the experience of fasting alone in the wilderness. You will be given an open door toward creating your own rituals and looking into the mirror of nature.
Solo
You will cross the threshold and enter into your ceremony, making it your own. You will fast alone in the wilderness as so many have done before. Your teachers will maintain a safe perimeter around the area and make sure you have sufficient provisions. Safety is our utmost concern and you will be given the tools necessary to support your well-being.
During the final days, we will join together for the sharing of stories. The guides will listen, help you to understand, and challenge you to give your practical feet – to live the life you have rightfully claimed as your own! When all the stories have been told, we will celebrate together before you return to your community with new understanding.
Deze plek is door de boswachter beschikbaar gesteld: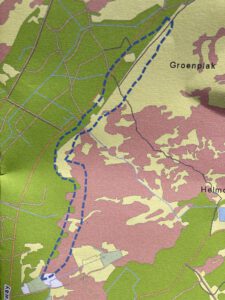 Wil je meer weten over een Vision Quest?
Vision Quest uitleg door Annette Beerens